If you are a Chase account holder and need to find a nearby Chase branch or ATM, you've come to the right place. Chase Bank, the largest bank in America by assets, has an extensive network of branches and ATMs across the United States. In this comprehensive guide, we'll walk you through the steps to locate the nearest Chase branch and provide detailed information about their services. Plus, we'll explore the benefits of banking with Chase and answer frequently asked questions. Let's dive in!
Why Choose Chase Bank
With over a trillion dollars in consumer and community banking deposits, Chase Bank has earned its reputation as a trusted financial institution. Their vast network of 4,800 branches and 16,000 ATMs is a testament to their commitment to accessibility and convenience. Whether you need a simple checking account, a home mortgage, or investment services, Chase has you covered. The bank's expansion into all 48 contiguous states demonstrates their dedication to serving customers nationwide.
Chase Bank Near Me – How to Find a Chase Branch Near You
Locating a Chase branch is a breeze with the Chase Bank Locator tool available on their website. To get started, go to https://locator.chase.com/ and enter your street address or ZIP code in the search bar. The interactive map will then display both branches and Chase ATM-only locations in your vicinity. To see only the branches, select "Filters" near the search bar, tick the checkbox by "Branch" under "Filter By Location Type," and hit "Apply." The map will now show only Chase branch locations and essential details such as phone numbers and services offered.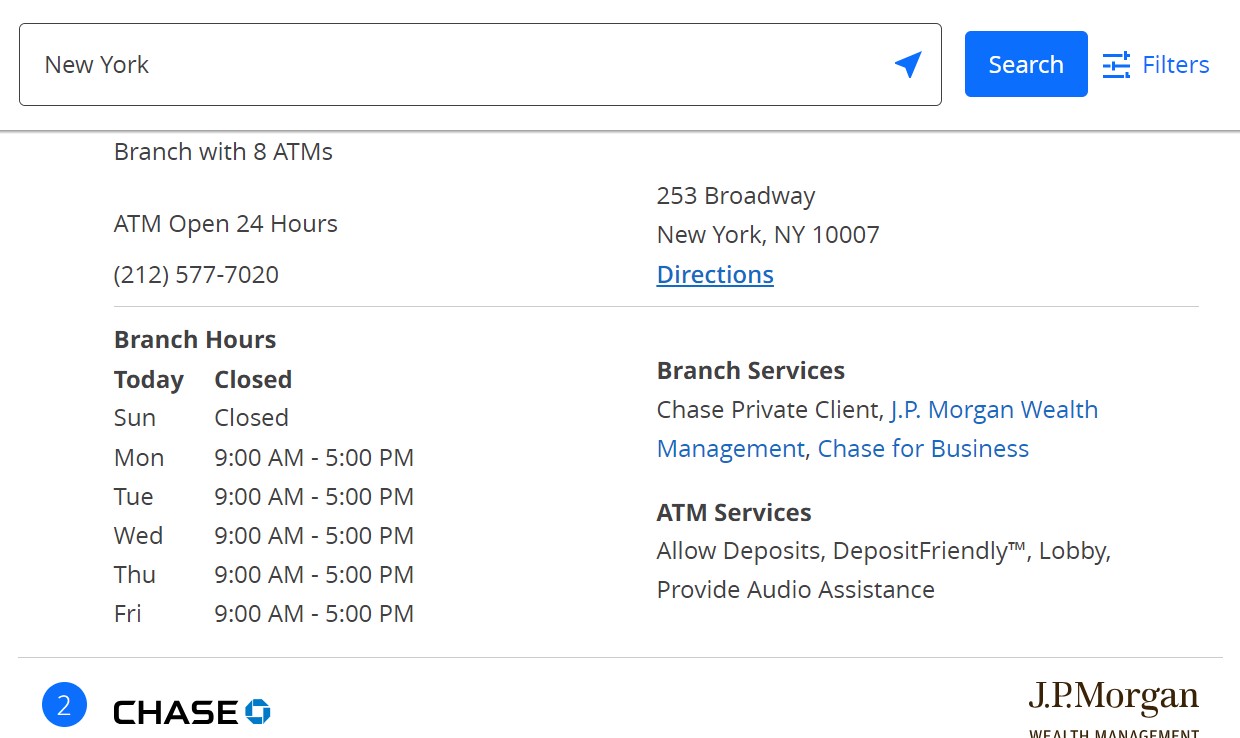 Services Offered at Chase Branches
At a Chase branch, you can take advantage of a wide range of services. From basic banking transactions like deposits and withdrawals to more specialized services like business banking and investment advice, their knowledgeable staff is there to assist you. Additionally, many branches have home lending advisors who can provide insights into mortgage and home equity loan products. The advanced ATMs available at most locations offer services in multiple languages, making them accessible to a diverse clientele.
Chase ATMs: Convenient Banking at Your Fingertips
Chase's network of advanced ATMs offers various features that enhance your banking experience. Cardless access, cash withdrawals, check deposits (up to 30 checks at a time), and the ability to make transfers and payments to Chase credit cards are just a few of the functions available. Using the Chase locator tool without filtering the results to find the nearest ATM. Keep in mind that many Chase branches have ATMs available 24/7 for added convenience.
Chase Bank Hours
Knowing the operating hours of Chase branches is essential for planning your visit. Most branches are open during the week from 9 a.m. to 5 p.m., with some locations also open on Saturdays from 9 a.m. until early afternoon. While limited Chase banks are open on Sundays, they typically operate from 10 a.m. to 2 p.m. If you're unsure about a branch's hours, you can check using the Chase locator tool.
Chase Customer Service Options
Chase prides itself on providing excellent customer service. You can reach Chase through various channels if you have inquiries about credit cards, personal banking, auto loans, home lending, or online and mobile technical support. The bank's customer support teams are available by phone, and for those with online accounts, you can also send secure messages for assistance. Additionally, you can contact Chase through social media platforms like Twitter, Instagram, and Facebook.
How to Open a Chase Bank Account
If you don't have a Chase account but want to open one, you have two options: online or in-person. To open an account online, visit Chase.com, select "Checking & Savings," and choose the type of account you wish to open. The online application process typically involves providing your Social Security number and uploading your identification documents. Alternatively, you can visit a branch and speak with a banker or schedule an appointment using the "Schedule a Meeting" tool on the Chase website.
Chase Bank Near Me? You Can Find Branches And ATMs Close By Using the Details in the Table Below.
| Information | Details |
| --- | --- |
| Bank Name | Chase Bank |
| Size | America's largest bank by assets |
| Branches | Over 4,800 branches |
| ATMs | Approximately 16,000 ATMs |
| Services Offered | Deposits, withdrawals, account inquiries, mortgage and home equity loan products, investments |
| Advanced ATMs | Cardless access, check deposits (up to 30 checks at a time), cash withdrawals, transfers, payments to Chase credit cards |
| Locator Tool | Available on Chase.com to find branches and ATMs |
| Search Criteria | Street address or ZIP code |
| Locator Filters | "Branch" or "ATM" |
| Branch Availability | Most locations open during weekdays from 9 a.m. to 5 p.m.; limited branches open on Sundays from 10 a.m. to 2 p.m. |
| ATM Availability | Many ATMs available 24/7 at branch locations |
| Customer Service | Available via telephone, secure messages (for online account holders), Twitter, Instagram, and Facebook |
| Popular Services Phone Numbers | Credit cards: 800-432-3117; Personal banking: 800-935-9935; Auto loans: 800-336-6675; Home lending: 800-848-9136; Online and mobile technical support: 800-935-9935 |
| Chase Branch Expansion | Aggressively expanding reach, with branches in 48 contiguous states |
| Unique ATM Locations | One ATM location in Hawaii (Oahu) and none in Alaska |
Final Words on How to Find Branches & ATMs Close By
Chase Bank's vast network of branches and ATMs and dedication to customer service make them an excellent choice for banking needs. Finding a Chase branch or ATM near you is simple with the Chase Bank Locator tool, and their range of services caters to a diverse clientele. Whether you're looking to open a new account, access advanced ATMs, or seek professional financial advice, Chase has you covered. Experience the convenience and reliability of banking with Chase Bank today!
Read Next:
Small Business Banking 101: Important Financial Terms and Concepts