Should I say CAVID-19 is a world problem leading to funny or scary questions?
The ongoing global coronavirus disease pandemic 2019 ( CAVID-19 ), a new infectious disease caused by severe acute respiratory syndrome coronavirus 2 (SARS-COV-2) has brought about different covid vaccine news and conversations.
Many people have imagined many things, and lots of questions are being asked.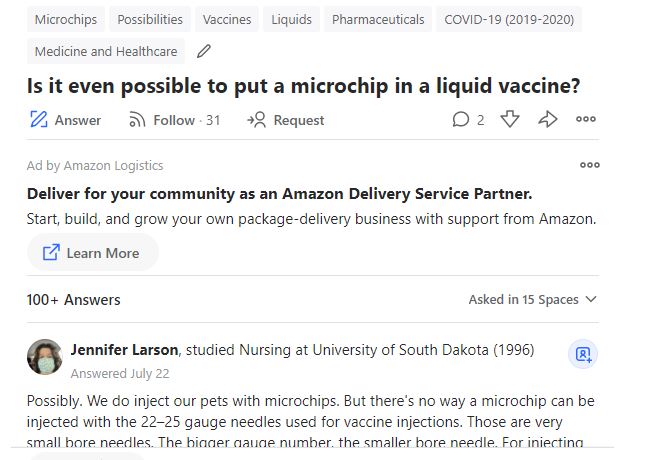 The question of the possibility of putting a microchip in a liquid vaccine has been asked on Quora and lots of answers are being provided by people from different parts of the world.
Is it possible to put a microchip in a liquid vaccine?
Talking about possibilities, see what Dave Haynie an Electronics engineer and life-long technology geek has said.
"A microchip? Absolutely! A functional transponder useful for tracking the US population. Nope — completely impossible." Read his complete answer
Are the fishes already caught in the net?
Another interesting answer is that of Dean Rubine former Faculty at Carnegie Mellon School Of Computer.
Dean Rubine is of the opinion that there is no need for putting a microchip in a liquid vaccine.
His answer:
"People you are already willingly carrying around all the microchips anyone needs to track you. You're probably staring at the device that contains them right now. You pay for a data plan every month and carefully charge the thing up every night so it can track you again tomorrow. What's a vaccine microchip gonna do that you're not already doing to yourself?"
See more content from Dean Rubine on Quora.
See more answers and join the conversation on Quora Here
Here: