My name is Meshach Owolabi, and I am going to show you how to choose a great blog name and niche.
I am a WordPress enthusiast, I have been building websites and blogs since 2015. Since then, I have built and launched several of my own blogs, and helped many others to create blogs and websites.
From my experience, I know that choosing a blog name and defining a niche can seem overwhelming, confusing, and intimidating.
This free guide is all about how to choose a great blog name and niche.
I must admit that when I started building blogs, I made several mistakes and today, some of the blogs I started earlier are no more. I hope this guide increases your potential for success in your blogging journey by helping you to avoid the same mistakes I made.
Choosing a great blog name and niche are very crucial steps to consider before starting any blogging journey.
Naming and niche selection are the starting point of your blog's branding strategy and they will play a vital role in deciding whether people will take the content on your blog seriously or not.
Before we proceed, let's define key terms.
WHAT IS A BLOG?
In simple terms, a blog (originally called "weblog") is a type of website that is focused mainly on regularly updated content presented in reverse chronological order (most recently published content appear first), the content published on blogs are also known as blog posts.
WHAT IS A BLOG NAME?
A blog name is a unique website name, popularly called domain name. Your website or domain name can be a single word, a combination of words or a combination of letters and numbers that will be registered with a domain name extension, such as .com, .org, .net, and so on.
You can name your blog anything you want, but a good blog name should be unique, brandable, short, memorable, and contain the blog's main keywords. Names that do not contain main keywords such are personal names, misspellings and existing business names can also be used as a blog name.
A blog name doesn't have to be relevant or meaningful. If the name is catchy, easy to spell and sounds nice, it has the potential of growing into a brand over time.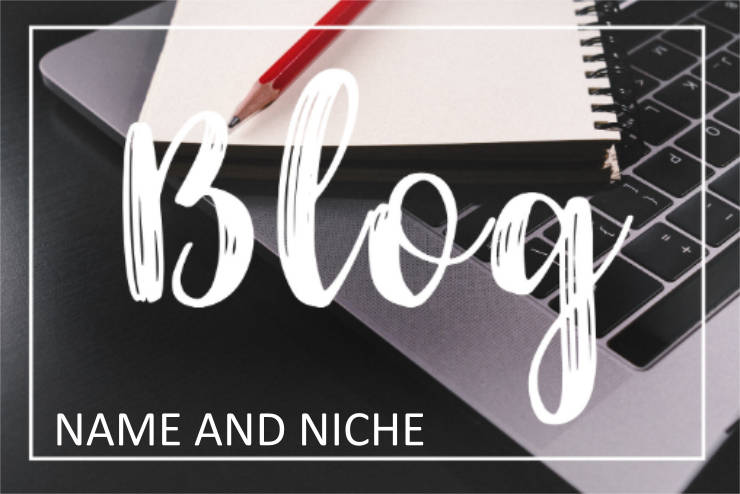 10 IMPORTANT CONSIDERATIONS FOR CHOOSING A GREAT BLOG NAME
Below are a few crucial tips and tricks every one starting a blog should carefully consider when trying to come up with a great name for a blog.
Don't be in a rush
Stay away from Trademarks and names already in use by other brands
Check that the domain is available
Short and catchy words are better
A short and catchy but irrelevant word can be a great name
Try to avoid numbers and special characters
Think about the long-term before using your personal name
Blog Name Generator can help
Before settling on a name, consider your long-term goals
Try to stay away from names that are too difficult to spell or pronounce.
A location-based name can be a great blog name.
WHAT IS A BLOG NICHE?
In simple and clear terms, the niche of a blog is what you want the blog to be about. That is the specific market that you are targeting with the content on the blog. Your blog niche will help in laying the foundation for what your readers should expect from your blog.
Before starting any blog, it is important to brainstorm on a range of topics, interests, and audiences that the blog will be about.
If you are just starting out, my candid advice is that you start a single niche blog and you can expand as you gain readers' trust and experience. Even as an experienced blogger, you cannot blog about everything.
In order to be successful in blogging, it is always better to first find your passion, it will help you define your niche.
IMPORTANCE OF DEFINING YOUR BLOG NICHE
See 7 Important Benefits of Niche Blogging
Niche blogs gain authority faster in the crowded digital space: Specialty definition will help in focusing on content and marketing techniques and this will result in easy branding.
A defined niche will help you focus and grow faster: There is a reason for the saying "Jack of all Trades, Master of None."
Niche Blogs get fast readers loyalty: A quality niche blog is likely going to get loyal readers than a blog that is about almost everything there is.
Niche Blogs are better for Affiliate Marketing: Because niche blogs attract an audience with a specific interest, it is easy to identify and promote products and services consumed by your audience and earn commission.
Niche Blogs are Search Engine Friendly: They enjoy better Search Engine Ranking because they contain detailed and valuable information that is related and related to a specific subject matter.
Niche Bloggers Become Experts in their Blog Niche: Bloggers are readers and researchers, by blogging about a particular niche or specialty, you become the master in that field – no past experience required, just enthusiasm!
Less Competition: Unlike all topics blogs, niche blogs have a lot less competition. For instance, not everyone blogs about Goat Farming for a number of reasons, so if can, you've beaten out several potential competitions before you even begin.
Generalized ideas blogs don't always stand out. Except you are a big, established and recognizable brands like Lifehacker or MailChimp, you could get lost in a sea of other blogs with a large audience and traffic.
WHAT TO CONSIDER WHEN CHOOSING A NICHE FOR YOUR BLOG
So, if you want to start and grow a successful and profitable blog but you're not quite sure what your blog should be about, its time to find out how to determine the appropriate niche for your blog.
In determining a niche for your blog, it is important to take time to ponder on these vital elements:
BUILD YOUR BLOG AROUND YOUR INTEREST
When you explore your interests, you become more self-aware, your personal values are unveiled and you can figure out ways to utilize your strengths. Your interest is all about what's important to you in life but on the short and long run, understanding it helps you in figuring out opportunities that align with it.
ESTABLISH YOUR PERSONAL VALUES
Understanding your personal values can help you find opportunities that align with what matters to you, making it easy to grow your blog into a business.
Also, researching what fulfills your values and writing or blogging about topics that are important to you can improve your productivity and you can easily have a feeling of fulfillment.
CONSIDER YOUR SHORT AND LONG-TERM GOALS FORT THE BLOG
Take a little time to figure out what you want to accomplish with your blog in the long and short term, this can help you navigate broader decisions in your blogging journey. If you are just a hobby blogger, you can just start blogging without setting goals. But if your dream for your blog is to grow it into a serious brand, it might be helpful to set goals. Even if your goals are not specific, goals setting can help you in measuring progress and keeping your drive alive.
CONSIDER YOUR TALENTS, SKILLS, AND ABILITIES
Taking inventory of your talents, skills, and abilities can be helpful in choosing a niche for your blog.
Blogs built around Talents, Skills, and Abilities can easily gain authority and they have high earning potential.
You can blog about the things you excelled at in school, technical skills you are proficient in or the soft skills that you leveraged to succeed in the past. In case you are not sure what skills you possess, the awards you won, compliments and recognition you received are good indicators, make a list of the skills and talents that helped you achieve them.
If you can identify your skills, you can also identify the areas of specialty in which you can excel. Then you can easily draw the connections and choose a great niche for your blog.
CONSIDER THE EARNING POTENTIAL OF THE NICHE
Before choosing a niche for your blog, you can do quick internet research to find out the earning potential of that niche, this is because some blog niches perform comparatively far better than other niches.
If you are not a hobbyist, there may be not good to waste your resources on starting and growing a blog that has little to no potential of making money or growing into an online business.
BLOG NICHES WITH HIGH EARNING POTENTIAL
You can choose from the following list of highly profitable blog niches to start your money-making niche blog.
Food
Photography
Beauty & Fashion
Parenting
How to Make Money
Personal Development
Love & Relationships
Pregnancy & Newborn
Marketing & Social Media
Retirement
Alternative Medicine
Technology and Business
Business & Career
6 WAYS TO MAKE MONEY ONLINE WITH A NICHE BLOG
You can sell Online Courses, Tutorials, and Instructional Videos and Audios on your blog
Sell Books & Related Digital Products: You can sell your own books or help others sell theirs and earn, you can also sell things like Downloadable workbooks, Online Magazines, Templates, etc.
Affiliate Marketing: You can refer your blog readers and audience to other people's products and earn commission
Advertising: You can sell advert space on your blog or partner with advert networks like mGid, Google Adsense, Eskimi, and so on.
Speaking Gigs: Due to the present pandemic, most speaking gigs are going virtual and many speakers are having difficulties finding speaking engagements. You can use your blog to increase your chance of finding paid speaking engagements. Your search will be easy if you use your blog to brand yourself as an authority in your blog niche.
Consulting/Coaching: You can make money online with consulting or mentoring business
Selling Freelance Services: You can make money blogging and selling freelance service online using your blog as your storefront.
BELOW IS A LIST OF 21 FREELANCE SERVICES YOU CAN SELL ON YOUR BLOG AND MAKE MONEY ONLINE.
Freelance Writing
Freelance Blogging
Business Coaching
Social Media Coordination and Management
Blog Posting, Editing, and Proofreading
Graphic Designing/ Logo Designing
Internet Researching
Content Marketing
Accounting (Bookkeeping)
eBook Writing
Translation and Transcription
Teaching/Tutoring
SEO (Search Engine Optimization) Consulting
Branding Services
Virtual Assistance
Data Entry
Photography
Video Editing
CONCLUSION
I hope the tips shared in this guide helps you in choosing a great blog name and niche.
Remember to remain concentrated on your essential intention for starting your blog.
Take as much time as is needed, be innovative, do all the checks, ask your friends, and you ought to be okay.
Don't forget to share your thoughts on this free guide in the comment section below.
If you have any questions that are related to this guide or blogging and online business that you don't feel comfortable asking in the comment section below, feel free to send me a message. You can contact me via the email address oma[@]rindx.com or the form on the contact page.
I wish you the best in your blogging journey.