Business Process Management Tools (BPM Tools) are used to coordinate the behavior of people, systems, information, and resources to achieve business results in support of a business strategy.
Business Process Management (BPM) is a discipline that uses various tools and techniques to develop, model, execute, monitor, and optimize business processes.
Most BPM management systems focus on creating a consistent, automated process for routine transactions and interacting with people. This helps to reduce the operating costs of the business by reducing waste and rework, as well as by increasing the overall efficiency of the team.
BPM tools are available in the management system, which helps to implement standard and automated business processes. For example, it helps enterprises automate complex, multi-stage, and repetitive business processes.
BPM management systems are used in large companies with complex processes, production complex, and an extensive structure.
Popular business process management tools (BPM Systems) are listed in the latter part of this post.
ADVANTAGES OF BUSINESS PROCESS MANAGEMENT SYSTEMS
Business Process Management Tools and Systems provides an opportunity to automate any business projects and processes of organizations.
With the help of a business process management tool, businesses can make changes as much as necessary, this is their main advantage. Other narrowly focused systems do not have such functions, because they have an insufficiently flexible configuration system.
This post will help you to familiarize yourself with some of the best Business Process Management Systems.
An overview of the latest Business Process Management Tools and technologies will allow you to choose the most effective option that is most suitable for your business. Using the list of BPM Systems highlighted in this piece, you can improve the quality of your work, and work more efficiently and productively.
Our content about BPM systems will familiarize you with the best options. We present the most popular Business Process Management Tools offered by popular brands.
COMMON FEATURES OF GREAT TOOLS FOR BUSINESS PROCESS MANAGEMENT
Setting up processes by business users, without programming
Installation on your server
BPM notation support for business process modeling
Graph database
Availability of a visual editor for modeling business processes
A unified environment for the development and execution of business processes
The ability to upload regulations for implemented business processes
Availability of process debugging mechanisms
Determination of the current step of the process execution in real-time
Compliance with the requirements of import substitution of the Russian Federation
The possibility of improving processes
Employee performance monitoring
Integration with 1C
Integration with IP telephony
Integration with email services
Integration with the site
Availability of the mobile version
Availability of demos
SAP Netweaver for BPM- For Managing Marketing, Sales, Customer Service Processes, And More. 
SAP NetWeaver BPM as a separate product has been introduced by SAP for a long time, but its popularity is far from deserved. At the same time, the need for organizing business processes is actively growing, the product has become especially relevant after SAP officially informed its partners about the gradual abandonment of the "double stack" principle (combining two technology platforms – ABAP and Java – in one system). In accordance with the updated policy, in the future SAP BPM will be used for all data exchange processes between systems instead of the existing built-in BPM tool in the SAP process integration data bus.
SAP Netweaver BPM solution is a new step in the development of business process automation systems. If we talk about SAP ERP, it is a set of best practices of the world's largest companies combined into a single solution. These methods allow companies to automate their business processes within a strictly defined framework. But what if a company is trying to stand out, build its business processes the way it sees fit, and at the same time get a tool for automating such processes? In this case, SAP Netweaver BPM comes to the rescue.
The huge difference between the SAP BPM toolkit in its current form and what pure BPM players offer is that the universal BPM toolkit can work in a heterogeneous IT environment, while the SAP BPM toolkit only works around their own processes.
Pega (Pega.com) – For Improving Operational Efficiency
One of the world leaders in creating software for interacting with customers and improving operational efficiency. Pega solutions provide businesses with a range of CRM system capabilities and digital automation of business processes, as well as products for managing marketing, sales, and customer service processes.
Pega on the BPM market provides the industry's most comprehensive unified platform for building intelligent business process management solutions. Its functionality includes dynamic case management (management corpus) of business rules and, mobile application development, reporting, security, integration, predictive and adaptive analytics.
Pega BPM helps large organizations to bring new products to the market faster, sell them more profitably and attract customers more efficiently.
All solutions are based on a single Pega platform. It allows you to speed up the process of creating and expanding the functionality of corporate applications in accordance with the different needs of the company's divisions, different products, channels of interaction, geography, and customer segments.
The core of Pega is an enterprise Java application that runs the application on any server. Based on this core, a stack of classes that make up the basic Framework PRPC is built, including the developer portal itself, accessible via a browser.
ProcessMaker – Develop, Automate and Deploy Business Processes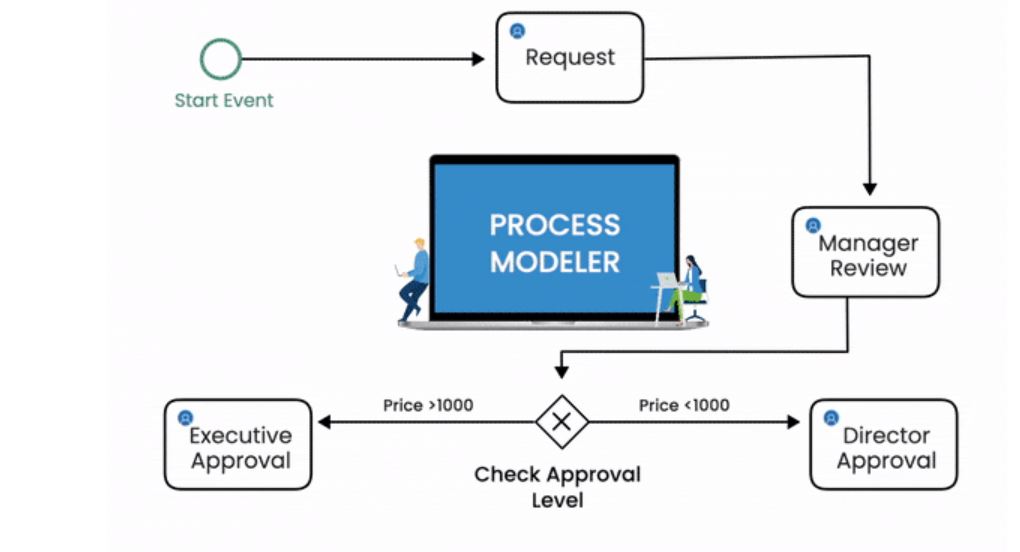 ProcessMaker is a popular solution for managing BPM and workflows in one. ProcessMaker allows you to develop, automate and deploy business processes and workflows.
The uniqueness of ProcessMaker is that it offers (1) an open-source option, (2) a local option and 3) a cloud option. Very few other products have all three.
ProcessMaker is used by corporations, governments, and educational organizations. Process design is performed using BPMN 2.0 notation, which is familiar to most process consultants.
The prices are listed on their website, but they are expected to pay around $1,000 per month with unlimited users.
The creators of ProcessMaker offer user support via video, email, webinars, and instant chat.
K2 – F or Developing Process-Oriented Applications
K2 Blackpearl is a platform for developing process-oriented applications. K2 Blackpearl is a software for automating workflows and building business process management systems that allow you to develop applications for SharePoint and integrate solutions on the Microsoft platform with SAP.
K2 Blackpearl is built on the basis of .NET. It replaces the traditionally complex software development process with an easy-to-use, intuitive tool. The platform allows businessmen and technologists to use process management applications that precisely meet the growing needs of the organization.
The highlight of K2 Blackpearl is K2 Designer for SharePoint – a designer that supports drag-and-drop mode, which makes it easy to build workflows, optimize operations, reduce costs, and increase the transparency of processes and business in a familiar and convenient web interface.
Zoho Creator – Low-Code Development Platform
Zoho Creator is a popular low-code development platform designed to create applications for mobile, tablet, and web platforms.
Zoho Creator is a popular choice for businesses and creators of all kinds. It has a script builder that you can use to drag and drop code snippets. Zoho is known for its suite of cloud products, and Creator is a very simple, low-code BPM tool.
Prices range from $10 to $15 per user per month. Customer support is provided through email, phone calls, and training. The creators' support service also has a ticket escalation feature.
Kissflow – Advanced Workflow and Form Design
Kissflow is a best-in-class BPM software that allows organizations to reinvent existing business processes for digital optimization. Its code-free development nature allows business users to automate process flows, apply business rules, and make special changes to processes without any coding.
Best of all, Kissflow is not limited only to structured and repetitive business processes, it also supports all types of work (processes, cases, projects, and more). Its intuitive process flow allows stakeholders to collaborate with each other efficiently and safely.
Some of the best features of Kissflow include user-friendly dashboards, custom report templates, and advanced workflow and form design. It also integrates seamlessly with other software solutions and standard applications to improve performance.
Kissflow offers three different tariff plans for different business sizes. Each tariff plan supports a different set of functions and user bases. All plans include instant chat support, detailed documentation, and informative webinars.
Monday.com – Web-based BPM System
This is a great BPM tool due to the fact that it got rid of many of the disadvantages of typical management tools and focused on simple, visually intuitive layouts that help clarify the sequence of work.
Monday.com combines business process and project management tools with functions that include resource and project management, time tracking, collaboration, and reporting functions. For instance, users can leave comments, mention teammates, upload and attach files to cards, and much more.
It also offers an excellent project report dashboard that can collect data from multiple boards, allowing you to better track progress. And while monday.com does not offer a complete set of tools for project accounting and invoicing, as other tools do, you can use monday.com to track hours, schedules, and invoices.
In general, this is one of the most customizable software solutions for BPM (business process management). It is a tool that allows you to work in any methodology — Kanban or other – that suits your project and team. You will also find several useful workflow tools to automate individual parts of your process.
Business applications such as Slack, Google Drive, Gmail, Google Calendar, Jira, GitHub, Trello, Dropbox, Typeform, and many others available through Zapier can be Integrated easily with monday.com
How To Choose The Best Business Process Management Tools For Your Business.
How to choose the best business process management System (BPM) and not waste your money and time.
The business process Management System (BPM) should be chosen based on the following:
Check if it's a Cloud or web-based solution.
Check for Complex or selective automation systems.
Check the Features of the functionality.
Check for the availability of the possibility of visual modeling of processes.
Check for availability of analytics.
Installation features and tariffs.
Check the BPM tool User reviews.
Commercial structures of production, services, trade, and finance can use the BPM system.
Read Next: