Let's circle back to a few decades ago, when every Sunday, we raced to the red mailboxes nailed to a wooden post that held chronicles and newsletters from our favorite brands. The excitement of getting to know what's brewing with the team behind the scenes, cool new product unveils, and sometimes those freebies as well!
Circa, present times…
The red mailbox has been replaced by apps on black mirrored rectangular windows to the world, yes, those little tech wonders that you are probably reading this blog on. And the brown-paper-wrapped journals and newsletters have been replaced by their younger, popular cousins; the email newsletters!
If you are a brand that loves to stay connected with and add value to the lives of your subscribers and consumer base, you must send out these nuggets of information that entertain and educate. But sending out email newsletters is no breezy walk in the park!
It is an art that requires practice, finesse, and of course, some expert guidance on the latest, most relevant best practices to ensure that your written word reaches and enthralls the viewers instead of lying unopened or, worse, ending up in the spam section of their mailboxes.
In the text that follows, we will begin with what goes into the making of a well-written newsletter and then proceed towards a list of best practices that one must consider when writing out their brand's flag bearers.
Anatomy of a well-written newsletter
The idea behind crafting an effective and engaging newsletter is to deliver journalistic quality content that is in sync with the brand values and meets the following goals;
Enhances the value you bring to your subscribers' table.
Increases the level of authenticity and credibility that your brand hold's in the eyes of your customers.
Sounds good and doable? Well, let's get cracking, folks!
The structure of your newsletter should look something like this,
Your brand logo
Eye-catching visuals or a featured image
Main stories featured on top
Informative content (90%) and promotions in the following section (10%)
A footer that contains links to sign up on the brand's socials and the option to unsubscribe (yes, that's important!)
Some ideas for your newsletter include,
Some best practices or tips to solve commonly encountered pain points
Latest case studies
Behind-the-scenes team fun
Meet the Team series
Relevant surveys, expert interviews on topics related to your industry
User-generated content such as photos or reviews existing customers have shared
Let's delve into a couple of examples of some really good newsletters!
This half-yearly roundup newsletter by Really Good Emails leaves us in utter awe of their flawless execution, sheer visual delight, and the whole spread of value on offer in the email. From the Barbie gif to the quirky CTAs, the selection of the most popular emails make it a classic example of a well-crafted e-newsletter.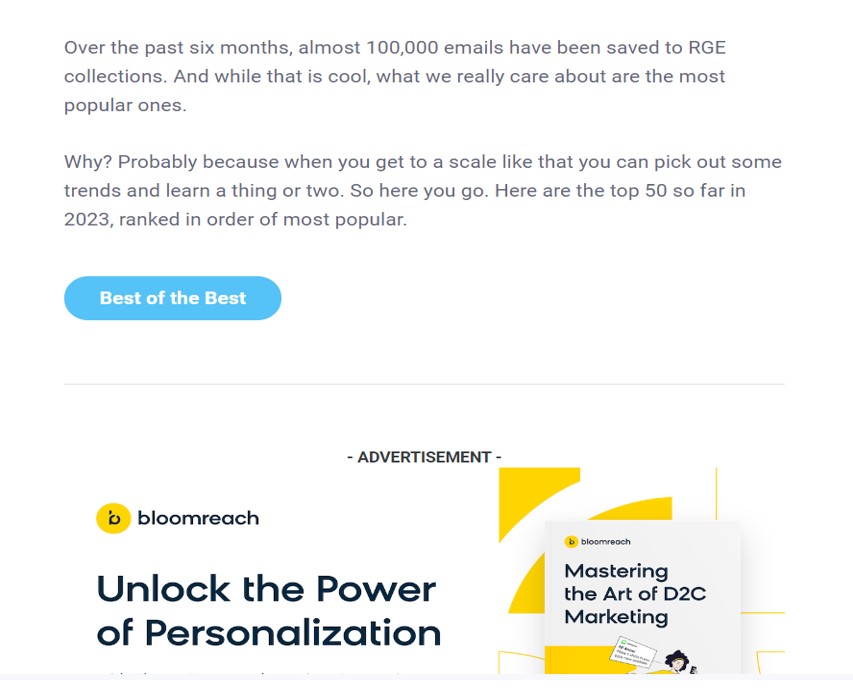 Check out another one from Email Uplers; this packs quite a punch with a roundup of the previous year's best reads at a glance, along with an insight into what the brand does best: everything email! The CTA, the visual hierarchy, and the color palette selection are quite laudable.
Now that we are familiar with the basics of what goes into the making of a good email newsletter, let's delve into a smattering of best practices that you can follow in crafting exemplary newsletters in 2023 and beyond!
Email Newsletter Best Practices You Need To Follow
1. Incorporate elements of storytelling into your e-newsletter:
Everyone loves a good tale that's not too didactic, entertains an audience, and has some value in the offing. When you weave a good story into your e-newsletter, it will likely have your subscribers clamoring for more and actually looking forward to the next installment! How to do that? Here's what you need to do;
Understand your target audience's demographics, pain points, and how you can solve them innovatively and affordably.
Create a relevant context so that the tale has a solid backing, for instance, a customer having stumbled upon the answer to one of their most pressing kitchen fiascos with your culinary devices. Get creative, folks!
Give the main character energy to your products and how they turned around a particularly tricky situation and saved the day!
End with a beautiful and attractive call to action that's hard to miss. Soon your cash registers might just start registering the cha-ching of the good stuff.
2. Mobile Optimized approach:
When the world is progressing towards the era of Progressive Web Apps (PWA), it makes sense to ensure that the newsletters you send out as a brand are optimized for an enhanced viewing experience on the mobile as well. You are probably consuming this piece of content from the screen of your smartphone, and let's face it, when you optimize your brand's marketing strategy for seamless mobile consumption, you are future-proofing all your branding efforts. One can begin by making use of responsive email marketing newsletter templates that adapt to the bespoke viewing experience on different platforms and screens.
Here's what you can take care of:
Stick to the subject line and preheader character limits that are appropriate for mobile viewing. You risk having them clipped, otherwise.
The text should be readable (try maintaining a font size of 22 pixels for headlines and 14 pixels for the body copy).
Make liberal use of white space and appropriate spacing between paragraphs (steer clear of large chunks of text, you know you would scroll past them too!).
Ensure that your CTAs are visible, optimized for dark mode viewing, and easily tappable.
Test your newsletters across email clients and devices to ensure a seamless viewing experience for your valued audience.
3.    Personalization for the win!
In the era of hyper-personalization, sending out generic newsletters will make it very difficult for you to grab eyeballs.
When you understand your customer's unique preferences, likes, dislikes, browsing habits, and purchase history, you can tailor newsletter content for each segment to suit their needs.
For instance, sending newsletters to new moms that include postpartum care accessories and tips to overcome postpartum baby blues can really help you establish a connect with your audience, and let them know that you truly care about them!
Summary
It is safe to say that sending awesome newsletters hold the key towards driving stellar results! With the best practices shared above, we hope your endeavor becomes that much easier. However, if you'd rather let the email experts do their job, trust Email Uplers to take care of every email marketing need of yours, right from setting up efficacious automated to curating compelling newsletters that warrant endless reads. Do drop by for a virtual coffee!
Read Next:
Email Marketing and Sender Reputation: Building Trust with Authentication